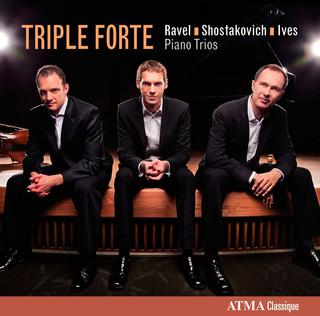 Triple Forte / Ravel | Shostakovich | Ives trios Triple Forte
Atma Classique, August 2012
Jasper Wood, violin
Yegor Dyachkov, cello
David Jalbert, piano
album reviews
Triple forte, in musical terms, means as loud as possible, but this all-Canadian trio made up of pianist David Jalbert, violinist Jasper Wood and cellist Yegor Dyachkov excel in fine nuance, not noise. They've collected piano trios that show off three very different types of art music from the first quarter of the 20th century: the ethereal impressions of Ravel in his popular 1914 trio; residual late-Romanticism in Shostakovich's effusive teenaged love letter trio from 1923; and Charles Ives' patchwork quilt trio of musical experimentation from 1911.
Changing rhythmic and expressive gears with deceptive ease, Triple Forte entrance with their single-minded grace, finding a sensible balance between musical muscle and subtle expression throughout. The Ives piece, too fearsome for anyone to tackle in public until 1948, is a particular treat.
This interpretation reveals a bright inner glow in its elegiac third movement, while the threesome has the time of their lives with overlapping American folksongs and Yale University frathouse drinking sitties in the second movement, marked "TSIAJ" (This Scherzo is a Joke).
John Terauds, The Toronto Star, 2012