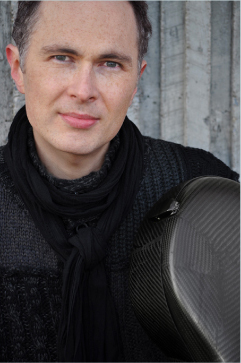 Lauded for his remarkable stage presence, depth of insight, nuance and generosity, cellist Yegor Dyachkov is an inspired recitalist, chamber musician and concerto soloist. Since being proclaimed Artist of the Year by the Canadian Broadcasting Corporation, in 2000, Mr. Dyachkov has gone on to perform throughout Europe, Latin America, Asia, Canada and the United States, making his New York debut at Lincoln Center in October 2000. He has appeared with major orchestras in such cities as Antwerp, Geneva, Montreal, Rio de Janeiro, Toronto and Vancouver, and has performed at numerous international festivals in Évian, Kronberg, Lanaudière, Ottawa, and Tanglewood.
A champion of new music, Yegor Dyachkov has premiered works dedicated to him such as the Sonata by Jacques Hétu, Ironman by Michael Oesterle, Vez for solo cello by Ana Sokolovic, as well as Menuhin : Présence by the late André Prévost. He was invited by Yo-Yo Ma and Sony Music to take part in the Silk Road Project.
Winning the Orford International Competition led to an invitation from the Chandos label to record his debut CD in 1997. His other acclaimed recordings can be found on the Brioso, Pelléas and Analekta, Riche Lieu and Atma labels. Yegor Dyachkov's principal mentors have been Aleksandr Fedorchenko in Moscow, Yuli Turovsky in Montréal and Boris Pergamenschikow in Cologne. He teaches at the Schulich School of Music of McGill University and at l'Université de Montréal and offers frequent masterclasses.