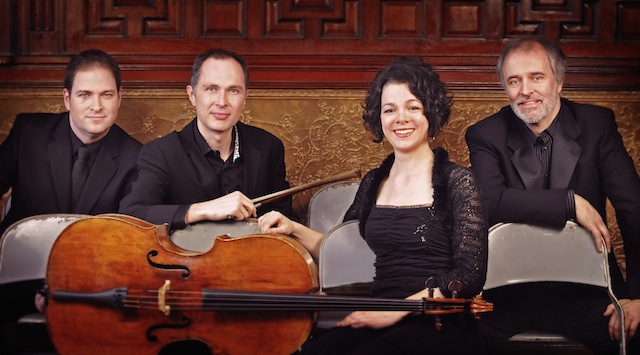 Olivier Thouin, violin
Yukari Cousineau, viola / violin
Yegor Dyachkov, cello
Jean Saulnier, piano
Composed of four prominent Canadian musicians, the Magellan Ensemble, following in the footsteps of its namesake, is committed to a true exploration of chamber music. Thanks to its variable geometry, the Ensemble leads audiences on an expedition through a wide variety of musical landscapes. Formed in 2007, the group has acquired a loyal following as ensemble in residence at the Chapelle du Bon-Pasteur in Montreal. The ensemble has appeared at the Festival de Lanaudière, the Ottawa International Chamber Music Festival, the Festival of the Sound, Calgary's Mountain View Festival, the Festival de Musique de Chambre in Ste-Pétronille, the Rendez-vous musical de Laterrière, the Concerts aux Îles du Bic, the Jeffery Summer Concerts in London, Ontario and the Virtuosi Concerts in Winnipeg. The Magellan Ensemble can also be heard on Radio-Canada and CBC.

Individual bios
Violinist Olivier Thouin is one of Quebec's most respected musicians as soloist, chamber musician and orchestral player. He won the Prix d'Europe competition in Montreal in 1997 and received the Young Canadian Musicians' Award in 2002. After studies in Montreal, Prague and Bern, Olivier Thouin went on to the prestigious music festivals of Marlboro and Tanglewood in the United States.
As soloist, Mr. Thouin has appeared with the Orchestre Symphonique de Montréal, the Orchestre Métropolitain, Les Violons du Roy, the McGill Chamber Orchestra and I Musici de Montréal. In addition to playing chamber music with artists such as Anton Kuerti and Marc-André Hamelin, he has given complete live cycles of the Beethoven, Brahms, Schumann and Fauré Sonatas. He was associate concertmaster of the National Arts Centre Orchestra in Ottawa and taught violin and chamber music at McGill University in Montreal. He is now associate concertmaster of the Orchestre Symphonique de Montréal.
Olivier Thouin plays a 1754 Michele Deconet violin generously lent to him by Canimex.

Yukari Cousineauis currently the concertmaster of the Orchestre Métropolitain, under the baton of Yannick Nézet-Séguin. A member of this orchestra since 1998, she is also a member of the Magellan Ensemble and La Muse string quartet, which she founded in 2008.
Yukari is the daughter of Jean Cousineau, founder of Les Petits Violons music school. After serving as concertmaster for the Petits Violons ensemble starting at age eleven, she became concertmaster of the Orchestre de Ville Mont-Royal and of UQAM's chamber orchestra. She also served as principal viola for the McGill Chamber Orchestra and the Orchestre de chambre Appassionata and was a member of a number of ensembles including La Pietà, Société de musique contemporaine du Québec, the Cordes Romantiques, the Trio Cousineau and the Molinari Quartet. She has been invited to a number of festivals including Un été à Bourges, Concerts aux îles du Bic and Rendez-vous musical de Laterrière. She has also performed in recitals with Jean Saulnier, Yannick Nézet-Séguin and Alvaro Pierri. In addition, she has been soloist with the McGill Chamber Orchestra, the Orchestre de chambre Appassionata, the Orchestre de chambre de Longueuil and the Orchestre Métropolitain.
In the fall 2014, Yukari will perform Berg's Violin Concerto, "To the Memory of an Angel" with the Orchestre Métropolitain.
www.yukaricousineau.com

Lauded for his remarkable stage presence, depth of insight, nuance and generosity, cellist Yegor Dyachkov is an inspired recitalist, chamber musician and concerto soloist. Since being proclaimed Artist of the Year by the Canadian Broadcasting Corporation, in 2000, Mr. Dyachkov has gone on to perform throughout Europe, Latin America, Asia, Canada and the United States, making his New York debut at Lincoln Center in October 2000. He has appeared with major orchestras in such cities as Antwerp, Geneva, Montreal, Rio de Janeiro, Toronto and Vancouver, and has performed at numerous international festivals in Évian, Kronberg, Lanaudière, Ottawa and Tanglewood.
A champion of new music, Mr. Dyachkov is the dedicatee of works by Michael Oesterle, Jacques Hétu, André Prévost, Ana Sokolovic and Christos Hatzis. He was invited by Yo-Yo Ma and Sony Music to take part in the Silk Road Project.
Winning the Orford International Competition in 1997 led to an invitation from the Chandos label to record his debut. He subsequently made several critically acclaimed recordings on the Analekta, Brioso, Atma, Doberman-Yppan and CBC/Riche-Lieu labels. Mr. Dyachkov studied with Aleksandr Fedorchenko in Moscow, Yuli Turovsky in Montréal and Boris Pergamenschikow in Cologne. He also had the opportunity to work with Mstislav Rostropovich, André Navarra, David Geringas and Frans Helmersson. Mr. Dyachkov teaches at the Schulich School of Music of McGill University, and at l'Université de Montréal.
www.yegordyachkov.com

Pianist Jean Saulnier leads an active career as a recitalist, chamber musician and teacher, with broad experience in both the solo and the chamber music repertoire. He is a sought-after collaborator by the best musicians from Canada and abroad, speaking eloquently to the flexibility, natural playing ability, and spirit of partnership he brings to every performance.
A recipient of numerous prizes in national and international competitions, including the William Kapell International Competition, the Prix d'Europe and the Leschetizsky Competition, Jean Saulnier has performed in Canada, the United States, South America and Europe. He has been guest soloist with renowned orchestras such as the Orchestre Symphonique de Montréal, the Orchestre Symphonique de Québec, the Orchestre Métropolitain, the Rochester Philharmonic and I Musici de Montréal. He is frequently heard in major Canadian music festivals and on CBC radio.
Jean Saulnier has recorded many major works from the chamber music repertoire on the Pelléas, Atma, Analekta and Doberman-Yppan recording labels. His 2002 recording of a Chopin recital on a 1848 Pleyel has also been praised for its refinement and originality. Since then he has had many opportunities to play this rare and wonderful instrument. Over time these investigations gave shape to a deeper awareness of the esthetics of Chopin's music.
Jean Saulnier studied with Marc Durand, Leon Fleisher and André Laplante. He is currently Associate Professor at the Music Faculty of the Université de Montréal where he has been teaching for over 20 years.

Magellan Ensemble Répertoire
Piano Quartets
J. Brahms / Piano Quartet in G minor, op. 25
J. Brahms / Piano Quartet in A major, op. 26
J. Brahms / Piano Quartet in C minor, op. 60
E. Chausson / Piano Quartet in A major
A. Dvorak / Piano Quartet in E-flat major, op. 87
G. Fauré / Piano Quartet no. 1 in C minor, op. 15
G. Fauré / Piano Quartet no. 2 in G minor, op. 45
M. Frigon / Aléa for piano quartet
M. Frigon / Trois scènes d'hiver for piano quartet
G. Mahler / Piano Quartet in A minor
B. Martinů / Piano Quartet, H. 287
W. A. Mozart / Piano Quartet in G minor, K. 478
C. Palacio-Quintin / Archipel imaginaire
R. Schumann / Piano Quartet in E-flat major, op. 47
R. Strauss / Piano Quartet, op. 13
Piano Trios
L. van Beethoven / Piano Trio in C minor, op. 1 no. 3
A. Dvorak / Piano Trio in F minor, op. 65
J. Haydn / Piano Trio in G major, Hob. XV:25
J. Haydn / Piano Trio in C major, Hob. XV:27
M. Ravel / Piano Trio in A minor
D. Shostakovich / Piano Trio no. 1 in C minor, op. 8
F. Schubert / Piano Trio in E-flat major, D. 929, op. 100
R. Schumann / Piano Trio in D minor, Op. 63
String Trios
L. van Beethoven / String Trio in G major, op. 9 no. 1
L. van Beethoven / String Trio in C minor, op. 9 no. 3
E. von Dohnanyi / Sérénade for string trio, op. 10
W. A. Mozart / Divertimento for string trio in E-flat major, K. 563
M. Reger / String Trio in D minor, op. 141b
F. Schubert / String Trio in B-flat major, D. 471
F. Schubert / String Trio in B-flat major, D. 581
Violin and Cello Duos
R. Glière / Eight duos for violon and cello, op. 39
A. Honegger / Sonatine for violin and cello, H. 80 (1932)
B. Martinů / Duo for violin and cello no. 1, H. 157 (1928)
M. Ravel / Sonata for violin and cello
E. Schulhoff / Duo for violin and cello (1925)
Violin and Viola Duos
B. Martinů / Madrigals for violin and viola, H. 313
Violin and Piano Duos
C. Debussy / Sonate for violin and piano
L. Janácek / Sonate for violin and piano, JW 7 no. 7
B. Smetana / « De ma patrie » for violin and piano, JB 1:118
Viola and Piano Duos
R. Schumann / Märchenbilder pour alto et piano, op. 113
Cello and Piano Duos
All the repertoire from this page
Various solo works for each instrument
Other
J. Brahms / Trio in A minor, op. 114 / clarinet, cello and piano
J. Brahms / Piano Quintet in F minor, op. 34
Th. Dubois / Quintet / clarinet and piano trio