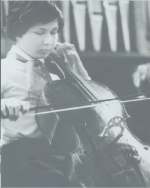 Lauded for his remarkable stage presence, depth of insight, nuance and generosity, cellist Yegor Dyachkov is an inspired recitalist, chamber musician and concerto soloist. Since being proclaimed Artist of the Year by the Canadian Broadcasting Corporation, and winning the Young Canadian Musician Award in 2000, Mr. Dyachkov has gone on to perform throughout Europe, Latin America, Asia, Canada and the United States, making his New York debut at Lincoln Center in October 2000. He has appeared with major orchestras in such cities as Antwerp, Geneva, Montreal, Rio de Janeiro, Toronto and Vancouver with conductors Lev Markiz, Grant Llewellyn, JoAnn Faletta, Anne Manson, Mario Bernardi and Yannik Nézet-Séguin among others. He has also performed at numerous international festivals in Évian, Kronberg, Lanaudière, Ottawa, Prussia Cove and Tanglewood.
Mr. Dyachkov's recent and upcoming performances include return engagements at the Festival of the Sound, the Lanaudière Festival, the International Cello Festival of Canada, the Women's Musical Club of Toronto and invitations from l'Orchestre Symphonique de Québec, Stuttgart Chamber Orchestra and Seattle Chamber Music Society.
Deeply committed to chamber music, Yegor Dyachkov has performed with the Arditti, Borromeo and St. Lawrence Quartets, pianists Jean Saulnier, John Lenehan, Martin Roscoe, Anton Kuerti, Stéphane Lemelin and Marc-André Hamelin, violinists James Clark, Jonathan Crow, Antje Weithaas, Scott St. John, Andrew Wan and Yehonatan Berick, cellists Steven Isserlis and Colin Carr, and clarinetists James Campbell and Todd Palmer. From 2005 until 2014, he was part of Triple Forte, with violinist Jasper Wood and pianist David Jalbert. In year 2007, he founded the Magellan Ensemble, with violinist Olivier Thouin, violist Yukari Cousineau and pianist Jean Saulnier. In 2015, he also founded the Montreal Piano Trio with violinist Axel Strauss and pianist Ilya Poletaev.
Winning the Orford International Competition in 1997 led to an invitation from Chandos to record his debut CD featuring Glazunov's Concerto Ballata. Yegor Dyachkov subsequently made critically acclaimed recordings including sonatas by Brahms, works by Prokofiev and Stravinsky, violin and cello duos with Olivier Thouin (all on Analekta), the cello concerto by Dvorak (Riche Lieu), the sonatas by Shostakovich, Schnittke and Prokofiev (Pelléas, Opus Prize 2001), works by Jacques Hétu and André Prévost (Doberman-Yppan), as well as sonatas by Strauss and Pfitzner (Brioso). His performances have been widely broadcast and televised in Canada and abroad.
A champion of new music, Yegor Dyachkov reserves a prominent place to contemporary music in his repertoire. He gave the premier performances of several works that are dedicated to him: the Sonata by Jacques Hétu, Ironman for cello and orchestra and The Agate Rosary for cello and piano by Michael Oesterle, Vez for solo cello by Ana Sokolovic, as well as Menuhin : Présence, a concerto written for him by the late André Prévost. Mr. Dyachkov was soloist for the first French performance of Giya Kancheli's Diplipito for cello, counter-tenor and orchestra at Rostropovich's Evian Festival and for the North American premiere in Winnipeg. He has also been invited by Yo-Yo Ma and Sony Music to take part in the Silk Road Project.
Born in Moscow in 1974, Mr. Dyachkov studied with Aleksandr Fedorchenko in Moscow, Yuli Turovsky in Montréal and Boris Pergamenschikow in Cologne. He also had the opportunity to work with Mstislav Rostropovich, André Navarra, David Geringas and Frans Helmersson. The breadth of Yegor Dyachkov's musical commitment extends to teaching master classes and to maintaining a dialogue with young musicians. He teaches at the Schulich School of Music of McGill University, at l'Université de Montréal and at the Orford Academy in the summer.