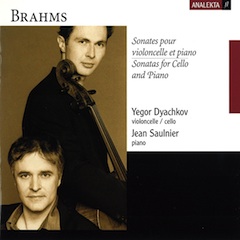 album reviews
Cellist Yegor Dyachov and pianist Jean Saulnier won Quebec's Opus Award for CD of the Year with their recording of sonatas by Shostakovich, Schnittke and Prokofiev in 2001, and their new Brahms release more than lives up to the promise of that earlier disc. Theirs is the kind of dynamic, balanced partnership that recharges chamber music. From the fantasy-like freedom of the opening of the E Minor Sonata to the poise of its minuet, or from the way the surging power of the "Allegro passionata" from the F major Sonata makes way for the naiveté of its last movement (as if there had been a complete changing of the guard), these two players sense one another's tiny games with time with mind-reading ease. It's a soliloquy for two. The superlative recorded sound makes Brahms's dense textures wonderfully clear here too, but there's also a tidiness to the interpretations themselves that lets the music speak -- you can almost imagine the words between the lines.
Elissa Poole, The Globe and Mail, Toronto, 2003
Des Brahms superbes et enveloppants dans la tradition romantique
Revoici deux complices des premières heures, Yegor Dyachkov et Jean Saulnier, réunis dans un programme tout Brahms, précisément les deux sonates pour violoncelle et piano opp. 38 et 99. En prime, les deux musiciens ajoutent une transcription (il semble qu'elle ne soit pas de Brahms) pour violoncelle et piano en ré majeurde sa Sonate pour violon et pianoen sol majeur op. 78 (d'une étonnante et mélancolique efficacité). Voilà Brahms comme on aime: enveloppé, inspiré, émouvant. Avec l'excellent pianiste Jean Saulnier et sa sonorité pleine, riche et généreuse, et son sens du détail et de la texture, et la partie de violoncelle tenue par le non moins solide Yegor Dyachkov, subtil de retenue qui ne parle pas pour ne rien dire. Chez lui, le style n'est jamais affecté et reste campé dans la contrepartie plus intérieure de ces oeuvres au lyrisme et au romantisme à peine voilé. L'image sonore globale est chaleureuse, enveloppante même... Voilà une interprétation engagée et soutenue, dans le respect de la tradition romantique, et qui trouvera bien des adeptes pour qui aime Brahms comme tel.
Guy Marceau, La Presse, 2003
Of these works [Brahms sonatas], that all cellists fight for, we have known several touchstone interpretations (…). Now, to this list we need to add the excellent Dyachkov/Saulnier duo. With rare intelligence, the two artists reveal both the atmosphere gentle melancholy of the Op. 38 as well as the power and mystery that permeate the Op.99.
Xavier Rey, Classica, 2003
Yegor Dyachkov and Jean Saulnier, who have already recorded a Shostakovich-Prokofiev-Schnittke program, are incredible. The pianist has really imbued himself in Brahms' "northern" style, vigour, turmoil, his tumultuous and feverish atmospheres, but also his silky and voluptuous sonorities. The cellist is absolutely on the same wavelength: dense, ardent, lyrical but with temperance. And above all, the musical discourse, particularly structured and complex on all levels, lives and vibrates.
Too often, the best interpreters get entangled in these pages. None of this here though: at every moment, the musical instinct is wide-awake.
Jacques Bonnaure, Répertoire, 2003
The sound is so good that the timbres of both the cello and the piano are perfectly reproduced, and you discover with delight the very close rapport between these two musicians. Saulnier plays with precision and fluidity, and is always expressive. The velvet smoothness of Dyachkov's cello, due in equal parts to technical skill and expressiveness, is remarkable. An hour of pure delight!
Add this CD to your collection, and I think you'll agree. The more often you listen, the more it will win you over.
Reine Lessard, Ultra High Fidelity Magazine, 2003
This record by young musicians from Canada adds to the original canon of two sonatas a transcription of the D-major Violin Sonata that I have detested since it was first recorded back in the 1980s.
...
Leaving that aside for the present, I must say that Dyachkov and Saulnier play with great intensity and involvement. I have seldom heard such effortless technical playing and such smooth phrasing. Some will feel that the clarity of their textures belies the weight of Brahms's work. I feel that way sometimes: the speed of the ending of the E-minor Sonata is a bit much, though it follows from the general energy of what came before. The Scherzo of the F-major Sonata is also very fast; it flies rather than swinging along as it usually does. The cello plays a little softly in the accompanimental moments, but this is part of the atmosphere of clarity that pervades this production, and there is such integrity in the playing that it rather disarms criticism.
There is much to admire in the violin sonata transcription as played here: the slow movement is very effective, the passages in double-stops are lovely. The outer movements have their moments too, though the sudden octave alterations are still most disturbing and the ending just distorts the whole piece. What is it without that lovely last phrase in the string line, here played by the piano? But the playing is beautiful and comes close to selling me on the transcription.
D. Moore, American Record Guide, 2003
The Examiner, San Francisco, 2003
DYACHKOV ET SAULNIER : UN VÉRITALBE DUO !
Vingt ans séparent la Première de la Deuxième sonate pour violoncelle et piano de Johannes Brahms. Cela permet, entre autres, d'apprécier l'étendue des procédés d'écriture mis à l'oeuvre dans ces pièces de choix du répertoire romantique de musique de chambre. Ces sonates, qui réclament de l'ardeur, de la passion et de la profondeur, trouvent chez Yegor Dyachkov et Jean Saulnier de formidables interprètes.
D'un lyrisme sans complaisance
En complète osmose, ces musiciens forment un véritable duo, notamment sur le plan de la qualité poétique du jeu et celui du style, qui est ici lyrique sans être complaisant. En accord avec le mouvement inspiré qui le porte, Yegor Dyachkov joue chaque note de ces partitions exceptionnelles de façon très convaincante. Alignant des phrasés détaillés avec minutie et déployant une énergie rythmique allègre, le jeu pianistique de Jean Saulnier est ici digne de celui des plus grands chambristes.
Prise de son soignée
Un disque d'une durée généreuse de près de 80 minutes de musique, complété par une transcription de la Sonate pour violon et piano en sol majeur op.78, du même Brahms, interprétée de manière aussi inventive. Servie par une prise de son soignée qui laisse de l'espace aux deux instruments, sans que l'un prenne le pas sur l'autre, la musique vibre dans tout ce qu'elle a de beau et de touchant à offrir.
Michel Ferland, Guide Culturel, Radio-Canada, 2003
Polished, sensitive playing, well recorded; Dyachkov and Saulnier present Brahms's musical argument with impressive clarity and understanding.
Duncan Druce, Gramophone, 2003
Their intimate playing brings an even greater autumnal feeling to this music than usual, though the outer movements lack nothing in dramatic bite and are tossed off with brilliant flair. Dyachkov and Saulnier also are more convincing than most in their cello transcription of Brahms' Violin Sonata in G. ...idiomatic, first-class Brahms performances.
Lawrence A. Johnson, Sun-Sentinel, Fort Lauderdale, 2003