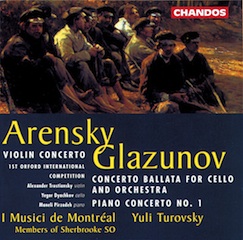 Arensky & Glazunov: Concerti
Chandos Records, January 1997
Alexander Trostiansky, violin
Yegor Dyachkov, cello
Maneli Pirzadeh, piano
I Musici de Montréal chamber orchestra
Yuli Turovsky, conductor
Anton Arensky (1861-1906)

Concerto for Violin and Orchestra in A minor, Op. 54

1

I. Allegro – [5:49]

2

II. Adagio non troppo – Allegro – [4:32]

3

III. Tempo di valse – [5:10]

4

IV. Poco meno mosso

Alexander Glazunov (1865-1936)

Concerto ballata for Cello and Orchestra in C major, Op. 108

5

I. Allegro comodo – [6:48]

6

II. Adagio – Più mosso allegro – [9:24]

7

III. Allegro marciale [5:08]

Concerto for Piano and Orchestra No. 1 in F minor, Op.92

8

I. Allegro moderato [11:48]

9

II. Theme and Variations I to IX [16:28]
album reviews
Le Concerto ballata pour violoncelle, au titre original, s'inscrit dans la filiation des Variations Rococo. On nous permettra de le trouver d'un intérêt musical au moins comparable au «tube» de Tchaïkovski. L'aspect rhapsodique séduit immédiatement par la variété des couleurs qui ne cherchent pas la virtuosité pour elle-même, mais une unité architecturale parfaitement menée à son terme. Dyachkov joue avec simplicité et souplesse une partition qui ne souffrirait aucune digression dans la pureté de sa ligne mélodique.
Stéphane Friédérich, Répertoire, 1997
…Also from Russia is the fine cellist Yegor Dyachkov. Two years younger than Trostiansky, he is currently a pupil of Boris Pergamenschikow. He, too plays with considerable refinement, his tuning good even in the upper stratospheres of the instrument. […] But he has chosen to play a real rarity and while Glazunov's rhapsodic Concerto Ballata, written in 1931 and dedicated to Pablo Casals, is no masterpiece, it proves immediately attractive.
David Denton, The Strad, London, 1997