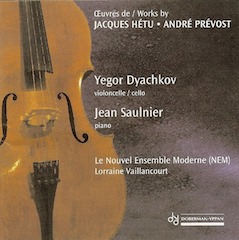 Hétu / Prévost
Doberman-Yppan, February 2005
Yegor Dyachkov, cello
Jean Saulnier, piano
Nouvel Ensemble Moderne
Lorraine Vaillancourt, conductor
Jacques Hétu (1938-2010)

Sonata for Cello and Piano Op. 63

1

I. Largo [6:02]

2

II. Scherzo [3:51]

3

III. Aria [5:08]

4

Prelude and Danse for piano solo, Op. 40 [6:03]

André Prévost (1934-2001)

5

Improvisation for Cello Solo

6

Sonata for Cello and Piano No. 2 [14:43]

7

Menuhin : Présence for Cello and Chamber orchestra [25:14]
album reviews
Heureuse initiative que celle de l'éditeur Dobberman-Yppan, qui fait paraître à l'occasion –trop peu souvent sans doute– des enregistrements d'œuvres dont il est le dépositaire. Si cette tactique peut amener des interprètes à commander les partitions, tant mieux ; elle fera sans doute aussi le bonheur des auditeurs qui auront la bonne idée de se procurer ce disque. Soyons clair : s'il est recensé dans la section « musique contemporaine », c'est bien pour des considérations chronologiques, et l'étiquette ne devrait effrayer personne. André Prévost, dans sa dernière œuvre Menuhin : Présence, créée par le NEM et Dyachkov en décembre 2000, quelques semaines à peine avant le décès du compositeur, est certainement plus en phase avec l'époque que l'est Hétu, dont l'inspiration se colore de post-romantisme ou de néo-classicisme et épouse des formes en voie d'extinction. Cependant, on n'écoute pas ce disque pour prendre une leçon d'avant-garde, mais bien pour goûter le talent des solistes, très bien servis par une excellente prise de son. Chacun a sa pièce : Prélude et Danse, opus 24, de Hétu (Saulnier), et Improvisation II de Prévost (Dyachkov). S'y ajoutent les sonates (opus 63 de Hétu et no 2 de Prévost) ; l'hommage à Menuhin boucle magistralement le tout.
Réjean Beaucage, La Scena Musicale, 2005
There is some powerful music here. Jacques Hetu (b 1938) and Andre Prevost (b 1934) are prominent composers from the Canadian province of Quebec. They share the spacious, timeless, but not minimal kind of music that I have come to associate with Canada at its most typical. Their music is on the edge of atonal, but highly expressive.
Hetu's recent sonata of 1998 is only 15 minutes long but gives an impression of satisfying beauty. The earlier Prelude & Dance is an effective piano work as well. Prevost is a bit more dissonant in style, but just as rich in expressive meaning. The 7-minute improvisation starts at the bottom of the instrument and explores the idea of meditation from the ground up. The sonata is the same length as Hetu's but is in one long movement. The larger piece dedicated to and descriptive of Yehudi Menuhin is a 25-minute work with the dimensions and scoring of a concerto accompanied by what appears to be a string quartet and lots of winds and percussion. It is another work of power and presence. Dyachkov plays with a variety of tone and touch.
D. Moore, American Record Guide, 2005