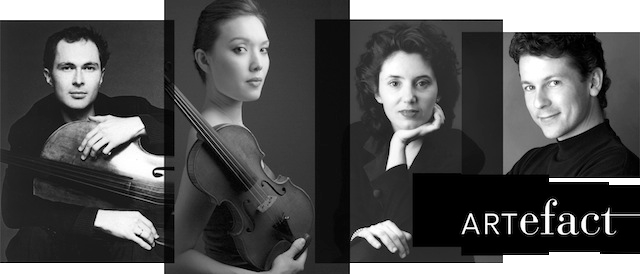 ARTefact
ARTefact is an ensemble of four spirited, like-minded musicians who joined forces in 2008 to celebrate the centenary of Messiaen's birth. A Canadian tour featuring Messiaen's Quartet for the End of Time garnered unanimous reviews, "Each of the performers is a virtuoso of the highest order.... The result was an extraordinary performance, one that will long remain etched in the minds of those who heard it."
Hailed for "their extraordinary technical skills and musicianship" and their "special feel for the music and a sense of communication that could not be missed", the individual members of ARTefact are at the forefront of their respective fields, yet play together "as if this was something they had been doing for a quarter of a century. Occasionally one finds a special alchemy among performers, and this was unquestionably the case here."
ARTefact's four members view the ensemble not only as an opportunity to present pieces from the broad and vivid repertoire for clarinet, violin, 'cello and piano, but also as a fount of varied and versatile repertoire for combinations within its instrumentation; piano trio, clarinet trio, instrumental sonatas, duos and solos. Passionate for the Classical and Romantic repertoire for these instrumental combinations, the members of ARTefact are also distinct advocates of the music of our time. Each of its' members Having had concertos and solos written for each of its musicians, ARTefact builds on its members' ongoing commitment to expand repertoire for their instrument with a new mission; commissioning and premiering new works for this ensemble's unique and popular instrumentation. To this end ARTefact has commissioned pieces from Canadian luminaries such as Serge Arcuri, Michael Oesterle and Nicolas Gilbert.
Drawing from repertoire that traverses the centuries, ARTefact's performances are as riveting as they are engrossing, "of the highest intensity, absolutely searing in its emotional force in live performance". Dedicated to the music of today, devoted to the music of yesterday, ARTefact's imaginative and innovative programming, coupled with an irrepressible energy, make them the only group of its kind on the Canadian chamber music scene